Hallelujah. Apple will bring back the rotation lock switch (now a mute button) in the next version iOS firmware 4.3. Developer beta copies are already floating around, and changes in the Settings menu give the option to change the side switch use.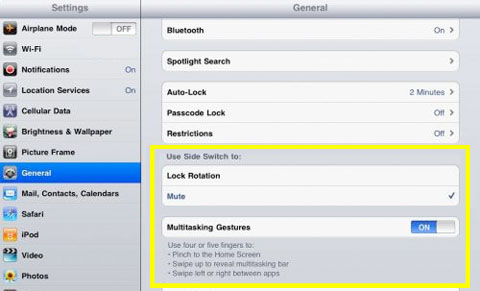 iPad owners will be able to select Lock Rotation or Mute under General settings. There was an outcry from users after Apple changed the side switch function from rotation lock to mute in November. Steve Jobs himself said the change was permanent, but apparently somebody changed his mind.
The side switch saga began when initial runs of support materials highlighted the switch as a mute button. The first iPad production models were shipped with a rotation lock switch instead, and documentation was adjusted accordingly. Apple put a rotation lock function in the multitasking dock with the release of iOS 4.2, and converted the side switch to a mute button as originally planned.
Although this may have matched the functionality of the iPhone, iPad users were livid over losing their ability to flip one switch to shut off rotation. In addition, Apple broke its own rules, as app developers are restricted from changing the functions of hardware buttons at all.
Another interesting addition to iOS 4.3 are multi-finger gestures on the iPad that can be switched on or off in the Settings. These Multitasking Gestures use four or five fingers for the following functions:
- Pinch to the home screen
- Swipe up to reveal multitasking bar
- Swipe left or right between apps
These new gestures will simplify access to the multitasking dock, taking multiple presses of the home button out of the equation. iOS 4.3 will be a free update for iPad users. No word yet on when Apple plans to release the firmware.