A report today from AppAdvice.com brought welcome news to anyone interested in reading eBooks on the iPad. With their privileged peek at the iPad's iBookstore, AppAdvice.com was able to spot that Apple has included the entire Project Gutenburg library of eBooks. This means over 30,000 free books will be available for download through iBooks. Yep, 30,000 free books.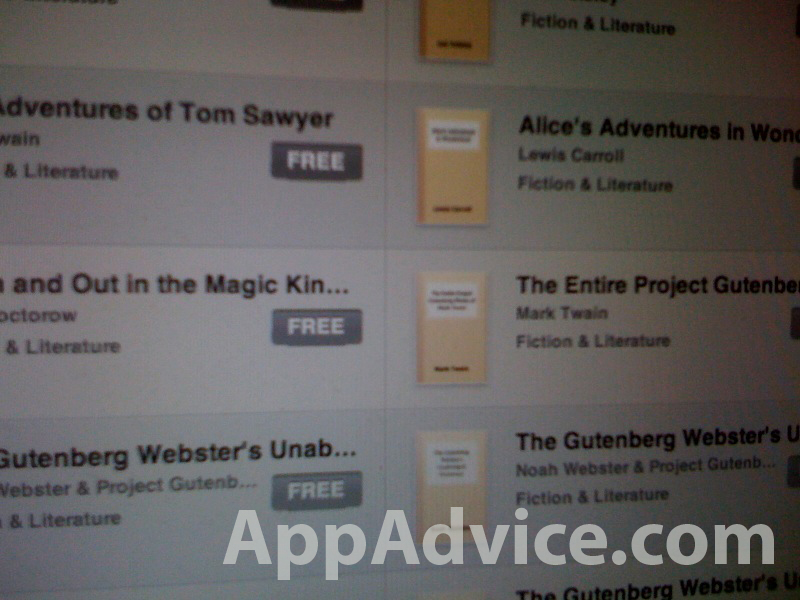 For those of you that aren't already familiar with Project Gutenburg, it is the largest online collection of free eBooks. The project was founded by the inventor of eBooks, Michael Hart. Project Gutenburg is volunter supported, and continues to grow.
The following list of the project's top 10 eBooks over the last 30 days provides just a few examples of the sort of literature available through Project Gutenburg:
Alice's Adventures in Wonderland by Lewis Carroll (26552)
Manners, Customs, and Dress During the Middle Ages and During the Renaissance Period by P. L. Jacob (15779)
The Outline of Science, Vol. 1 (of 4) by J. Arthur Thomson (15640)
Illustrated History of Furniture by Frederick Litchfield (10456)
Pride and Prejudice by Jane Austen (9541)
Through the Looking-Glass by Lewis Carroll (9494)
The Adventures of Sherlock Holmes by Sir Arthur Conan Doyle (9075)
Foods That Will Win The War And How To Cook Them (1918) by Goudiss and Goudiss (8848)
Adventures of Huckleberry Finn by Mark Twain (8477)
The Kama Sutra of Vatsyayana by Vatsyayana (7682)
Apple announced some time ago that the iPad would support the ePub open ebook format. While this remains a great feature of the iPad, many readers will find fewer reasons to load custom titles into iBooks given the expanse of material available through Project Gutenburg.
The plethora of available titled via Gutenburg will help the iPad stand up against more established eBook competitors such as Amazon's Kindle, and may help provide an incentive for on-the-fence potential iPad buyers to may the decision to buy.