iPad owners can look forward to the next Apple iOS firmware update, as iOS 5.0.1 beta has already been seeded to developers. The update should be available for the general public within a few short weeks and will provide bug fixes and new features to iPhone and iPad users alike.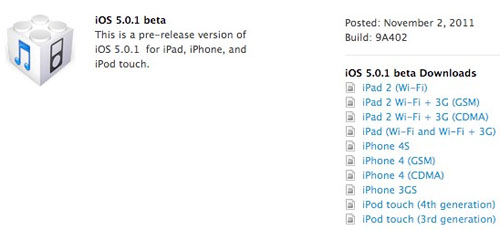 When it comes to the original iPad, multi-finger gestures originally included in the iOS 4.3 beta update that were never deployed have finally made their way into the iOS 5.0.1 update. These gestures include 4 and 5 finger gestures that perform different functions including returning to the home screen without pressing the home button, app switching and multitasking dock access.
iPad 2 owners have enjoyed these multi-finger gestures from the beginning with iOS 5 on their devices. Now these additional features will come to the original iPad with the next update. This doesn't mean that iPad 2 owners have been left out of the fun. They will also get bug fixes for a security hole that makes it possible to access the iPad 2 without a passcode.
The last app used can be viewed using a Smart Cover by simply holding down the power button until the turn off slider appears, opening and closing the Smart Cover and tapping Cancel. Apple is closing this loophole in iOS 5.0.1, even though it's not a major security threat. The update also fixes some bugs involving iCloud documents and voice dictation for users with Australian accents.
Not only this, but iPhone 4S users will be happy to know that the iOS 5.0.1 beta update addresses battery problems reported by some users. iOS 5 updaters and iPhone 4S owners have experienced shorter than expected battery life in some cases. Luckily, Apple has found several bugs that are to blame and corrected them in the update. iPad and iPad 2 owners can expect the general release of iOS 5.0.1 within the next few weeks.