Apple is poised to release iOS devices with much faster quad-core processors later this year. The first device to feature the next generation A6 processor could be the iPad 3 this spring, however there are now rumors of an iPad 4 in the works for October 2012. Regardless, the A6 is the logical next step for Apple to take in their mobile devices.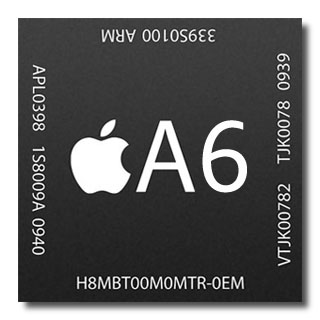 The A4 was featured in the original iPad, and upgraded to the dual-core A5 chip in the iPad 2. According to research from 9to5 Mac the latest iOS 5.1 beta source code contains evidence that Apple is indeed working on a quad-core processor. Processing core management software has been adapted in iOS 5.1 to add "/cores/core.3" according to the report, which represents a fourth processing core.
With the right software to send these multiple processor cores instructions, performance is improved. When it comes to an iPad 3 or 4 with the Apple A6 quad-core processor installed, speeds would be dramatically increased across the board. Not only this, but the extra processing power lends itself nicely to manipulating quadruple the number of pixels should Apple move to a Retina-type display on the next generation iPad.
A higher resolution screen is expected to debut on the next iPad, which could require a brighter backlight and additional computing power. Apple is said to be currently testing the iOS 5.1 beta firmware with an upcoming next generation iPhone and the next iPad in development. Whether or not the next iPad is named the iPad 3, iPad HD, iPad Pro or something completely different, the device is likely to feature this quad-core processor.
This move by Apple would keep in step with prior system-on-a-chip (SOC) releases, as the A4 debut was in 2010 with the A5 following in 2011. Samsung is already manufacturing A5 chips at its new factory in Texas, and could start production of the A6 in the same facility. A quad-core processor equipped iPad would keep Apple's tablet in first place against the competition, improve graphics capabilities and add speed gains to response times and apps across the board.