Reports indicate that mega-retailer Best Buy has begun training employees for the April 3rd launch of the Apple iPad. Although it was noted some time ago that Best Buy would be carrying the Apple iPad, since then reports have been conflicting regarding whether the iPad would be at Best Buy on launch day or if the non-Apple store retailers would have to wait until after the initial launch period to begin selling the long-awaited tablet.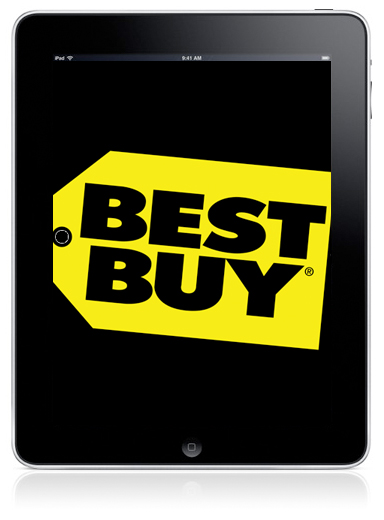 Best Buy has announced that it has no plans to open stores early on April 3rd, as it expects that doing so would result in additional expenses with comparably little financial benefit. Display and promotional materials for the iPad are expected to arrive at Best Buy locations early next week.
It is worth noting that not all Best Buy locations will be selling the iPad on release day. Best buy has indicated that only locations outfitted with the "store-within-a-store" Apple sales area will feature the iPad during the launch. While the majority of Best Buy locations are outfitted in such a way (around 675 of 1000), customers that are uncertain of this designation should contact their local store in advance to determine whether they will be selling the iPad on April 3rd.
Best Buy's online store, bestbuy.com, will also not be selling the iPad at the time of the launch.
There is additional speculation that an iPad WiFi+3G model may be available for prospective customers to demo come launch day as well. As noted by MacRumors, reports out of Best Buy interestingly indicate that four separate SKUs have been created for the demo units. Three of these SKUs are obviously for the three WiFi-only iPad models that will be available for purchase come April 3rd, but the purpose of the fourth SKU remains unknown, with a plausible suggestion being that this will be used for 3G models which will be available for demonstration purposes only.