Topping off this month's iPad Accessory A Day Giveaway is one of the most unique iPad cases we've seen to date, the Nedrelow BOOK. Enter now or anytime before 12:00 AM EDT to win a hand-made Nedrelow BOOK to protect and disguise your iPad. Entry is free, confidential and without obligation.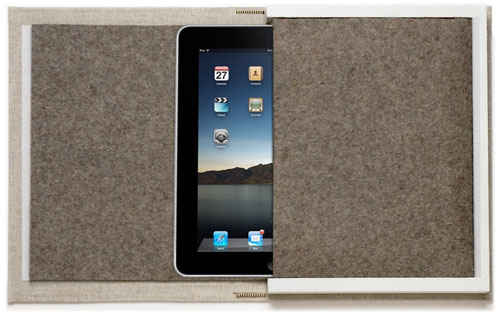 Designed by two Minnesotan bibliophiles, BOOK began as a project to produce artist's monographs. After designing and constructing their first book, Nedrelow realized that the book jacket is a time-tested method of protection applicable to other materials beyond pages.
While they believe that that BOOK is a great companion for digital devices, they also believe in the power of paper books. A portion of the profits from BOOK will be used toward producing artists' books at Location Books.
The Nedrelow BOOK protects the iPad in transit and makes it possible to store the device inconspicuously on a shelf with real books. The BOOK is handcrafted, protecting the iPad from impact and scratches with an interior sleeve made with natural felt. This felt is 100 percent renewable and sustainable wool. Closing the hard cover is easy using the integrated Velcro strip.
Each BOOK is handmade in a studio in Minneapolis, Minnesota by two artists. Find more information including user ratings and reviews in our iPad Accessory Guide.