As mentioned in last week's contest announcement, we'll be giving away iPad accessories every weekday in April. The contest features a wide variety of iPad accessories including screen protectors, skins, cases, stands, warranties and insurance. Tomorrow, April 5, is the first day of the contest, with ZAGG's award winning invisibleSHIELD iPad screen protector kicking things off.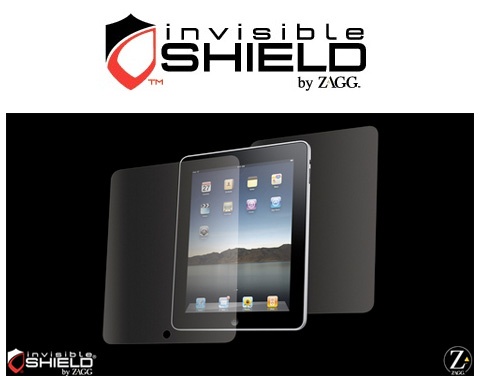 ZAGG's invisibleSHIELD is one of the most well-known names in electronic gadget protection. These "invisible" plastic skins protect gadgets around the world including mobile phones, laptops, GPS units, digital cameras and more.
Made from a military-grade material originally designed to protect the edges of helicopter blades, the invisibleSHIELD has a reputation for toughness. ZAGG has sold over 7 million invisibleSHIELDs worldwide, and backs all of them with lifetime guarantees. So, if you find a way to wear it out or scratch it, they'll replace it for free.
Although each day of our contest will allow users the chance to enter the contest multiple times, the invisibleSHIELD days (April 5-7) will also aggregate entries for contestants. Entries that fail to win on the first or second day will accumulate for the final drawing on April 7.
Head to our April iPad Accessory-A-Day Giveaway contest page to enter and to learn more about the full month's worth of giveaways.
For more information about the ZAGG iPad invisibleSHIELD screen protector, head to the official invisibleSHIELD site.