iPad hacker i0n1c has been teasing us with images of jailbroken iPads running iOS 5.1 since March, and he continues to amaze by releasing an image of his iPad 3 running Cydia on iOS 5.1.1 only a few hours after its release.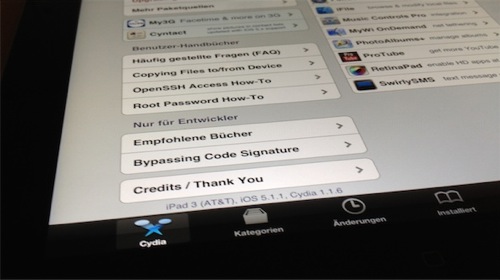 This doesn't necessarily mean an iPad 3 jailbreak will be made public in the near future, especially since i0n1c seems reluctant to share. However, the rest of the jailbreaking community is busy working on a new exploit. So there is still hope. Apple released iOS 5.1.1 a few days after pod2g announced that his iPhone 4 running iOS 5.1 was finally untethered, and i0n1c's photo proves that iOS 5.1.1 can be broken.
I should also give the obligatory warning not to update to iOS 5.1.1 if you would like to keep your current jailbreak. For non-jailbrekaers, iOS 5.1.1 improves reliability for the HDR option when accessing the camera app, and fixes a few bugs. Read on for a complete list of changes.
Improves reliability of using HDR option for photos taken using the Lock Screen shortcut.
Addresses bugs that could prevent the new iPad from switching between 2G and 3G networks.
Fixes bugs that affected AirPlay video playback in some circumstances.
Improved reliability for syncing Safari bookmarks and Reading List.
Fixes an issue where 'Unable to purchase' alert could be displayed after successful purchase.