UPDATE: Instructions for using Absinthe for Windows are here.
iOS developer pod2g wasn't lying when he promised us an iPad 2 jailbreak was only a few days away. The Chronic Dev Team and a group of dream team iOS hackers have released the Absinthe jailbreak tool for Apple A5 devices running iOS 5 and iOS 5.0.1 firmware. This is the untethered iPad 2 jailbreak you have been waiting for since its release almost a year ago.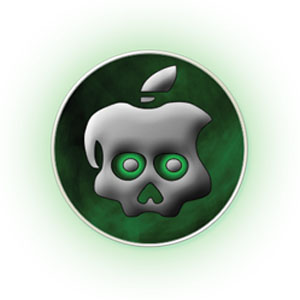 The long awaited hack is so popular that the greenpois0n servers crashed from the large amount of downloads on Friday. Hopefully most of the iPhone 4S owners have already jailbroken their devices, and things will start getting a lot smoother this weekend. The iPhone Dev-Team is also working on incorporating the A5 jailbreak procedures into redsn0w, and plan to release a command-line interface (CLI) for advanced users in the future. We'll keep you updated.
You can visit pod2g's blog to donate money as a thank you for their hard work. Everyone who worked on the A5 exploits will receive a fair split of the contributions. Donations are not required, but appreciated by the people who worked long hours to bring you this free service. They also help with future jailbreaks and updates.
Make sure you backup your iPad 2 using iTunes before jailbreaking. Here are instructions on how to jailbreak your iPad 2 or iPhone 4S:
1. Make sure your device is updated to either iOS 5 or iOS 5.0.1 (the iPad 2 must be updated to iOS 5.0.1). iPhone users waiting for an unlock should stay at iOS 5.
2. Download the Absinthe software directly from greenpois0n.com or this mirror (version 0.1.2-2) (Mac OS X only. Chronic Dev Team is working on a Windows version of the tool).
UPDATE: Chronic Dev Team has released Absinthe 0.2 to implement bug fixes.
3. Open the Absinthe archive and run the software. If your computer asks whether or not to run the application click Open.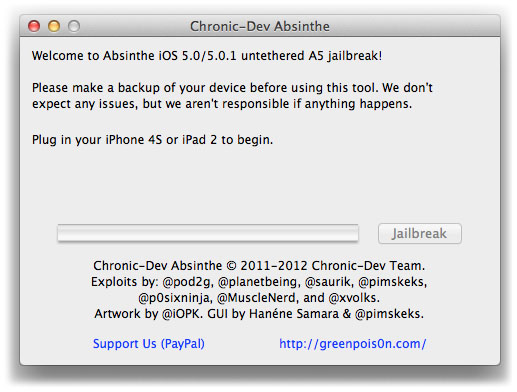 4. Connect the iPad 2 or iPhone 4S to the computer via USB cable.
5. Click the Jailbreak button in the Chronic Dev Absinthe application window.
6. The iPad will say Restore in Progress. Do not touch the iPad until Absinthe completes!
7. When the process is complete, unlock the iPad and touch the Absinthe icon. This icon will be located on one of your home screens.
8. The greenpois0n site will load and then the iPad will reboot. Note: if the message "Error establishing a database connection" appears quit the Absinthe app using the multitasking dock then try again.
9. The Absinthe icon will be replaced by a Cydia icon after reboot. Your device is now jailbroken.
10. When first running Cydia (the jailbreak app store) the program initializes, which could take a few minutes. After this is done, navigate to the Changes menu and touch Refresh in the upper left hand corner to update the package list.
iPhone Dev-Team explained an alternative fix for the message "Error establishing a database connection" on their blog:
If the Absinthe webclip shows "Error establishing a database connection", please go to Settings, turn on VPN and wait instead.
Toggle VPN only AFTER Absinthe says it's done, or it will not work.
VPN SHOULD error and then reboot soon. If it does not, rerun Absinthe!