Apple watchers are expecting Apple to release the iPad 2 this spring, packed with new features and a refined form factor. Aside from various mock-ups of the next generation iPad appearing at CES this year, several recent leaks from industry insiders are painting a more detailed picture of what the iPad 2 hardware will include.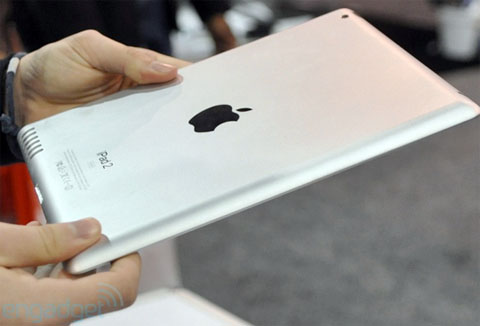 Similar to Apple's improvements to the iPhone 4 with the Retina display, AppleInsider discoveries have been made indicating a quadrupling of screen resolution is in the works for the iPad 2. Thanks to the release of iOS 4.3 beta firmware, developers have found graphics in the iBooks application that have two different resolutions.
The culprit is a file titled "Wood Tile@2x.png" which is a background image that covers 2048x1536 pixels. Besides the @2x in the file name that Apple also uses for Retina display iPhone 4 apps, this new size exceeds the current iPad's 1024x768 pixel screen. AppleInsider explains this would leave the iPad 2 with approximately 260 pixels per inch (ppi).
Although this might be less than the 326 ppi Retina display on the iPhone 4 it will be vast improvement on the current iPad's 132 ppi. Getting 326 ppi on an iPad screen would require too much processing power for a mobile device, making a Retina display on the iPad 2 highly unlikely.
In addition to the improved display, two cameras on the iPad 2 is all but confirmed. FaceTime capabilities will make it possible to video chat with friends on other iOS devices, and eventually across platforms.
Mysterious square holes on iPad 2 cases were leading some to speculate that the device would have an improved speaker or include a USB port. Engadget now reports the iPad 2 will almost definitely have an SD card slot:
That's right -- our sources say with near certainty that the device will have a dedicated SD slot built in (with no traditional USB slot).
A built-in SD card slot is a departure from Apple's current mobile devices. Not only this, but Apple plans to include several new chips inside the iPad 2. Look for a processor upgrade, improved graphics processing unit (GPU) and a Qualcomm hybrid baseband. Using this hybrid radio, Apple can manufacture one iPad 2 model that will connect to multiple cellular data networks, including Verizon and AT&T.