The iPad 2 is in short supply and Apple is shipping tablets as quickly as possible. With hundreds of thousands of units already in the hands of consumers, some unlucky iPad 2 users have experienced problems on the display. Some of these issues have been seen before, such as yellowing while adhesive dries and dead pixels.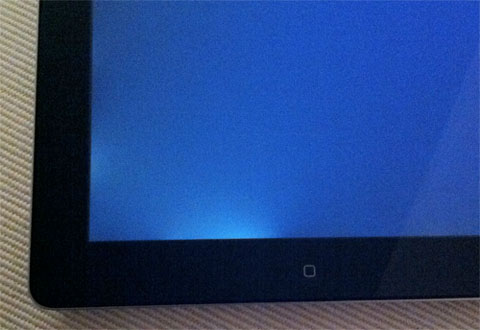 Pictured above is a new problem reported by some iPad 2 owners experiencing backlight bleeding on the edges of the screen. This photo was posted at iSource, showing a large light bleed from the edge of the LCD panel to the left of the home button. Smaller light leaks can be seen on the left edge of the iPad 2 bezel.
Yellowing was reported on some iPhone 4 displays that shipped last summer, and in most cases after a few days of use the yellow spots disappeared. The problem was blamed on chemicals used to bond the glass that wasn't fully dry before shipping. So far, it seems that iPad 2 users affected with the yellow spots are having a similar experience and the discoloration is fading over time.
When it comes to dead pixels and light leaks, these are defects that will not improve over time. The good news is that these problems are easy to test for and completely covered under warranty by Apple. Many iPad 2 buyers have already received replacements for defective devices at the Apple Genius Bar thanks to the free year of Apple Care included with purchase. Checking your iPad 2 screen for these problems is a simple process.


To check your iPad 2 screen for dead pixels, yellowing and backlight leaks perform the iPad dead pixel test on your device.
For problems besides dead pixels, the white image included in the test will indicate areas where adhesive may still be drying on the iPad 2 display, while the black image will expose any light bleeding around the edges. Make sure to turn the screen brightness up before performing the test.
If you find that your iPad 2 is affected by any of these display issues visiting the Genius Bar is the quickest way for Apple to verify the problem and get you a new iPad 2. Besides the annoying process of having to return a defective item, the only drag is that it might take a few days to get a replacement unit until iPad 2 supplies are replenished. Rest assured that Apple will correct any manufacturing problems you might find with your iPad 2 in the first year of warranty coverage.