For those who have an iPad 2 and enjoy the look of Apple Store docks for their devices, the iPad 2 Display Dock provides a solution. Apple recently unveiled acrylic displays in every retail store anchoring iPads to sales displays so that customers could get information interactively.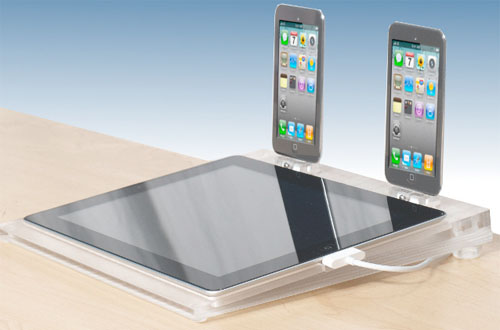 This version from NewPCGadgets not only holds your iPad 2 and provides a slot for the charging cable, it can also provide storage space for two iPhones or iPod touch devices. This accessory is made from high-quality clear acrylic that is custom milled and hand polished for that sleek Apple look.
The accessory is designed to provide an optimum iPad viewing angle, and comes in two versions. One version includes the additional slots to keep two small iOS devices on hand, while the other is simplified and only holds the iPad 2. The iPad 2 Display Dock with two additional ports has additional slots for charging cables to hook up with all of your devices and runs $74.95.
The iPad-only model is slightly less expensive at $69.95. Adhesive pads are included should you want to affix the iPad 2 to the acrylic stand, and there are cutouts for headphone cables to connect to your devices as well. This product is the closest thing to Apple retail store iPad displays, and with one inch of high-quality acrylic your friends will never know the difference.