More leaked iPad 2 cases have arrived that confirm the next generation tablet will have a slimmer form factor. Various openings on the cases also show a rear-facing camera and other mysterious ports.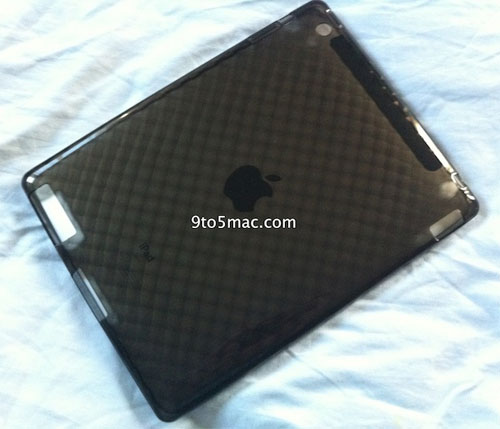 9to5 Mac got their hands on a silicone shell case, and they describe it as "crazy thin". Pictured here, the case features a hole slightly larger than an iPhone 4 camera on the back. Most observers expect the iPad 2 to launch with front and rear facing cameras and FaceTime.
The typical Apple connector port is at the bottom along with a large hole presumably designed for a larger, improved speaker grille. The headphone port and volume buttons are unchanged, however there's a mystery slot on the left side. Speculation has run rampant that Apple could include a USB port, SD card slot, or even a Light Peak port.
9to5 Mac tried fitting different items in the slot, and they believe the mystery port will be a microUSB port or possibly a microSD card slot. Apple could be adding microUSB to conform to European regulations that are designed to standardize mobile device charging hardware.
Another iPad 2 case has been revealed by M.I.C. Gadget, this one in leather and also showing the slimmer profile. The case has a flat back and indicates the iPad 2 will have tapered edges, just as other reports have described. The leather unit has the same cutouts for a larger speaker grille and rear-facing camera as the silicone case. Unless Apple makes last-minute changes to the iPad 2 design, it looks like case manufacturers are coming up with some pretty consistent designs. We'll have to wait for an announcement from Apple to see just how thin the iPad 2 will be.