MacRumors has uncovered more evidence of an iPad 2 camera in the latest Apple iOS firmware. iOS 4.3 beta 2 has made its way into the hands of developers, and icons for Camera, Photo Booth, and FaceTime apps can be found in the release.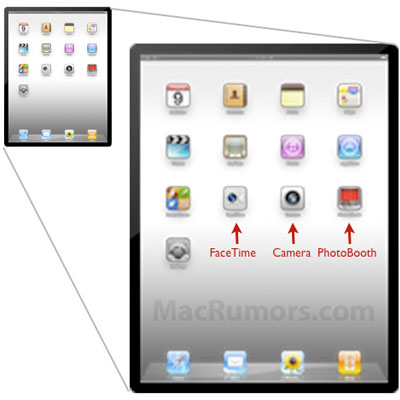 The icons appear in a small image (homeScreenOverlayFaceTime~ipad.png) which is used to preview iPad home screen wallpaper. In the current firmware iOS 4.2, this same file shows all of the standard iPad icons but these three camera-specific apps are missing. It's possible Apple could ship the iPad 2 with only one front-facing camera, although other evidence points to two cameras on the iPad 2.
Besides just the Photo Booth icon, several filters are also included in iOS 4.3 beta 2 firmware: kaleidoscope, light tunnel, mirror, squeeze, stretch, thermal camera and twirl. These filters allow pictures to be taken in the Photo Booth app with special effects. Mac OS X computers ship with the Photo Booth app and built-in webcams installed.
Apple is sure to bring FaceTime video calling to the iPad 2 as additions to the software have made apparent. Future iPads will be capable of making FaceTime calls with an email address instead of a phone number, expanding the number of devices using Apple's video chat protocol.
Some have doubted that the iPad 2 will include a rear camera due to its large size. Holding up the device to snap a photo could be cumbersome, although recently launched competitors to the iPad have included dual cameras already. Those waiting to purchase the next generation Apple tablet will have to wait for the iPad 2 release date coming soon.