As anyone with the Apple Digital AV Adapter knows, HDMI cables currently require the $39 part to connect to an iPad or iPhone. According to a report by CNET a more normal-looking Apple 30-pin to HDMI connector cable is on the way from third party manufacturers.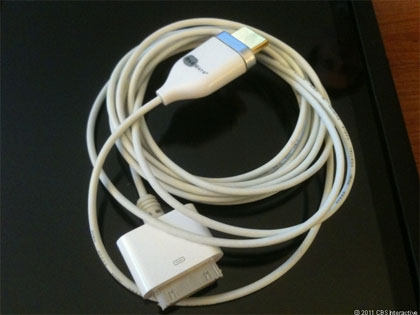 The photo above, taken by CNET during a meeting with RedMere shows the reference design for a cable in the works. Not only will these cables simplify the process of connecting an iPad to an external HD display, they should be less expensive than the AV Digital Adapter plus HDMI cable combo.
RedMere manufactures chips that help to make HDMI cables thinner and lighter, and will make silicon for the new 30-pin connector to HDMI cables. According to the company, these new cables could hit the market as early as July. Making an HDMI cable as thin and portable as possible dovetails nicely with the mobility of devices like the iPad. It's a hassle for those making presentations on the go to fumble with an extra adapter that takes up space in the bag.
Plugging in one cable to get HD sound and video out of an iPad 2, iPhone 4 or iPod Touch 4G is the way to go. CNET predicts the cables will sell for $40 or less, and we wonder if Apple will continue to sell the Digital AV Adapter when these accessories ship. It was nice for Apple to finally offer HDMI out on their devices, however the whole adapter thing never did seem to mesh with Apple's simple design aesthetic.
As these HDMI cables are third-party accessories competing with Apple products, we don't expect them to show up in Apple Retail stores anytime soon.