Apple today released iOS 8.1.1 for the iPod touch, iPhone and iPad. The update includes various bug fixes and "stability and performance improvements" for both the iPhone 4s and iPad 2. It was originally revealed by Arts Technica that iOS 8 ran slower on Apple's older hardware. This prompted some iPad 2 users to stick to iOS 7 and miss out on the new features found in iOS 8, but now users with older devices can upgrade... Unless you're jailbroken and want your device to stay that way!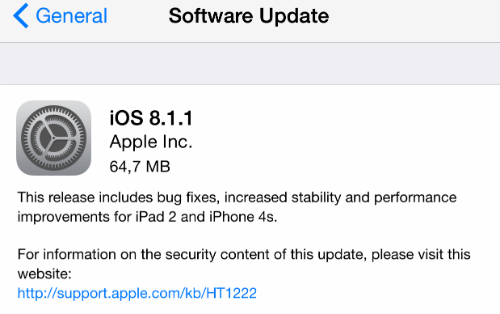 iOS 8.1.1 also patches an exploit used by the Pangu8 jailbreak. This means anyone with a jailbroken device running iOS 8.1 should avoid iOS 8.1.1. If you're running iOS 8.0 and haven't jailbroken yet, you can still do so but you will not be able to upgrade to iOS 8.1. You can learn how to jailbreak your iPad or iPhone using Mac OS X here or using Windows here.
iPad users not interested in jailbreaking can install iOS 8.1.1 over the air by navigating to Settings > General > Software Update.