iPad hacker i0n1c published pictures of a jailbroken iPad 2 running iOS 5.1. i0n1c is known for releasing the iOS 4 untether that was killed when Apple released iOS 5.0. It's unknown if and when i0n1c will release his jailbreak to the public, but he did tweet: "Anyway so maybe the iPad 3 will not be jailbroken tomorrow, but on Monday or whenever I get my iPad 3."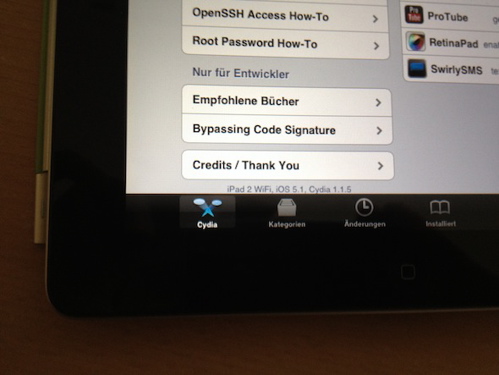 Pod2g, the hacker responsible for both the Corona and Absinthe jailbreak tools, is also working on finding vulnerabilities in 5.1. This is good news for people who accidently updated to 5.1 and lost their jailbreaks.
If you own a jailbroken iPad 2 or iPhone 4S you should not update to iOS 5.1. Apple has stopped singing 5.0.1 SHSH blobs, and you will not be able to restore back to 5.0.1 since the signing window is closed. iOS 5.1 breaks the Corona untether and Absinthe jailbreak. Hopefully either i0n1c or Pod2g will release an update soon.