ZAGG, manufacturers of a wide array of accessories for today's digital gadgets, announced today that two of its most popular accessories -- the flagship invisibleSHIELD and the Bluetooth case/keyboard combo ZAGGmate -- are now available for pre-order for the iPad 2.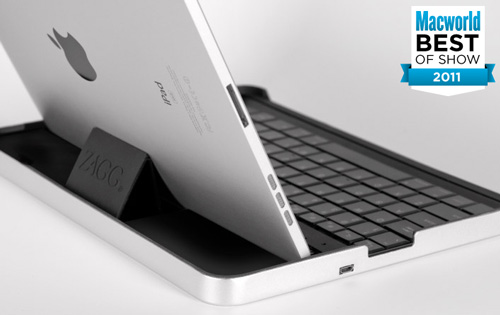 The iPad 2 was released yesterday by Apple both in retail stores and online, and produced unsurprisingly brisk sales. Shoppers lined up, in a typical fashion that has become incredibly familiar for Apple product releases, to guarantee themselves a brand new iPad 2.
The invisibleSHIELD, a technologically advanced film that provides "invisible" protection against screen and body dings, dents, and scratches, is ZAGG's most widely sold gadget accessory. The ZAGGmate is an aesthetically well matched case for the iPad that also doubles as a Bluetooth keyboard. While the ZAGGmate for the original iPad was also available as a case-only accessory, ZAGG appears to have abandoned this option for the iPad 2.
The ZAGGmate has received heaps of critical acclaim, including winning Macworld's "Best of Show" award this year. You can see an in-depth look at the ZAGGmate by visiting our First Look at the ZAGGmate.
To pre-order the ZAGGmate or the invisibleSHIELD, head to ZAGG's web site.