Senior Vice President of iOS Scott Forstall took the stand during Apple and Samsung's latest patent dispute. During cross examination by Samsung counsel Kevin Johnson, Forstall was shown a 2011 email sent by Eddy Cue. According to Cue, Steve Jobs was "receptive" to the 7-inch tablet idea after the launch of the Samsung Galaxy Tab.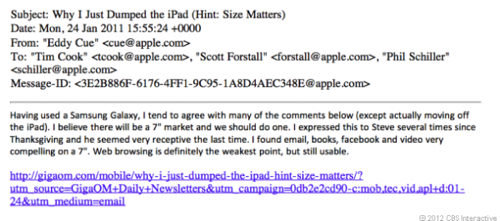 Jobs called 7-inch tablets "useless" and said they would be "dead on arrival" in 2010. However, the Amazon Kindle Fire and Google Nexus 7 have proven there is a market for smaller, more affordable tablets.
Recent rumors have suggested Apple plans to launch their own 7-inch tablet in the fall. Many people believe the "iPad mini" would be Apple's response to the Nexus 7, but Cue's email reveals that the company has been considering conquering the 7-inch market for quite a while.
The email should also quiet opponents of the rumored iPad mini who keep pointing out Jobs' disdain for smaller displays.
Apple is expected to announce the iPhone 5 and iPad mini at a special event on September 12th, according to iMore. However, "reliable" inside sources told iLounge Apple will probably hold a separate event for the tablet, and that it could ship by November.
[via The Verge]