The trailer for upcoming fantasy sequel Infinity Blade 2 is packed with impressive graphics that take full advantage of the A5 processor in the iPad 2 and iPhone 4S. Of course, the game will still run on older iOS devices and brings scenery and lighting in the title to a whole new level.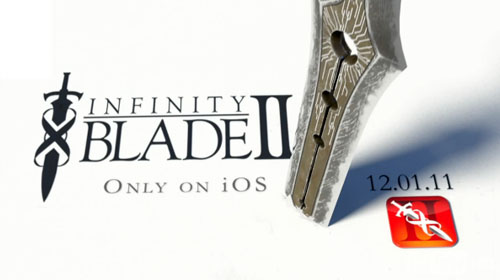 The Infinity Blade 2 release date has been confirmed for Thursday December 1, 2011. Apple watchers got a sneak peak of the app at the iPhone 4S keynote, but now a trailer showcasing the incredible art in the game is available below. Epic Games and ChAIR Entertainment also announced that the original Infinity Blade is on sale for $2.99 for a limited time.
Infinity Blade 2 will continue your mission to build skills, collect weapons and infiltrate the world of Deathless tyrants and their Titans. Scenery now changes each time you enter the level, and light beams are rendered perfectly for added effect. Game mechanics involve using the iOS touch screen to swing your weapon in battle and perform magic as you fight for survival.
According to the trailer, Infinity Blade 2 aims to provide "epic isolation" to the user. In other words, the game is a massive blockbuster experience except that you're immersed in the world of the game all by yourself. Infinity Blade 2 is sure to be a blockbuster when it launches exclusively on iOS devices next week.