Leaked photos posted on TechCrunch look suspiciously like an official Facebook app running on the upcoming HP TouchPad. This will come as a surprise to iPad owners, who have been waiting for their own Facebook app to complement the iPhone version already available on the App Store. Recent reports indicate an official Facebook iPad app is coming in a matter of weeks, however a release date has not been announced.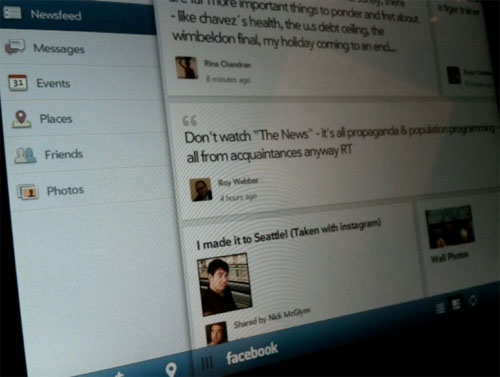 The iPad software is said to be in its final testing stages, with a slick new design optimized for the iPad touch screen and cameras. The HP TouchPad is slated to ship with its own Facebook application this Friday, pictured above. This gives the WebOS tablet a lead over the iPad in at least one arena.
Facebook reportedly contacted TechCrunch and explained that they didn't develop the WebOS app themselves. Apparently HP built the Facebook app for their tablet, as RIM did on the Blackberry Playbook. Regardless, Facebook lovers will have to go to third party apps on the App Store to access their profiles on the iPad.
Current app titles such as Friendly for Facebook and MyPad - for Facebook could hold over Facebook users until the official app is released. Some of these apps get mixed reviews, unlike the official Facebook app which the New York Times reported was impressive.
In other related news, limera1n developer and iOS jailbreaker George Hotz (geohot) has been working for Facebook, possibly to help develop the official iPad application. Hotz recently declined a challenge from fellow hacker p0sixninja to find jailbreak solution for the iPad 2.