Keeping your Contacts current on your iOS device can be tedious, but luckily there is a quick way to update all of them by using Facebook or Twitter. Apple has made it easy to add the information your friends and family have listed on both social media sites to their contact cards on your iPad or iPhone. To do this you will of course need the free Facebook and Twitter apps installed on your device. You will also need to be logged in to your account and give Facebook and Twitter access to your Contacts.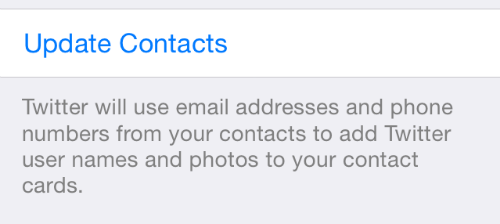 This will also create new contact cards for anyone not listed in your Contacts app, and it will automatically use a person's Facebook photo as their profile photo on your device. This is not recommended for people who have a lot of online friends they do not want listed on their iPad and iPhone.
Here's how to update your Contacts using Facebook or Twitter:
1. Open your Settings app
2. Tap the Twitter or Facebook panel
3. Scroll down until you see "Allow These Apps to Use Your Account" and make sure the Contacts slider is ON/Green
4. Scroll down and tap "Update All Contacts"
This will update all your profile photos, birthday information, addresses and other information your friends and family have shared on Facebook and Twitter. You should also check your Contacts app for duplicate and incorrect information after updating.