A lot of all-in-one chargers made their debut at CES earlier this year, but Griffin Techonology's PowerDock 5 made the biggest impression on iOS users. The space-saving charging station can safely charge up to five devices at once, while helping keep homes and small offices clutter free. The PowerDock's individual charging bays are big enough to hold any iOS device and can accommodate almost any iOS case.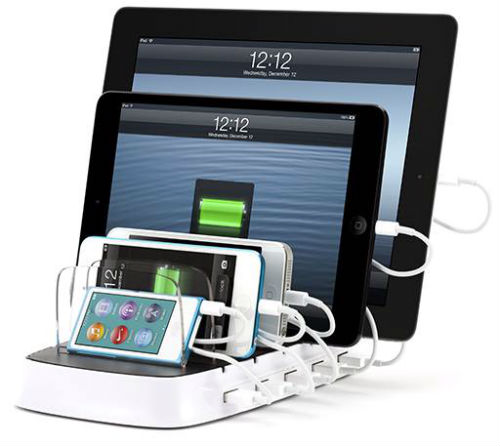 The entire PowerDock 5 charging station only occupies as much room as a single iPad, and it can also charge any USB-chargeable device, not just Apple products. This makes it a great accessory for families or small offices who need to charge multiple tablets or smartphones at the same time.
The PowerDock 5 utilizes Griffin's ChargeSensor technology, and it features an individual 10-watt, 2.1-amp power supply for each charging bay. This makes it safe to charge even the most power hungry tablets and smartphones simultaneously.
The PowerDock 5 is compatible with every iOS device including the original iPad, iPad mini, the iPad 3 and 4, iPhone 3G or later, and almost every iPod model. It is currently available from GriffinTechnology.com for $100.