Griffin makes some of the slickest iPhone cases out there, so it's no surprise they've announced new accessories for the Apple iPad.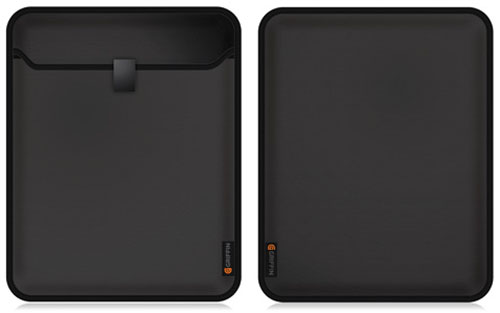 Pictured here is the neoprene Jumper. This black sleeve case fits snugly around the iPad and seals completely with a pull tab to keep dirt, dust, and scratches away from your device.
The Elan series features a microsuede interior to protect the iPad screen, along with a stain-resistant synthetic leather exterior. These look more like business folios, and the Elan Passport even has slots for business cards and a folder for papers.
If you're looking for more color, a giant version of the common silicone skins found on iPhones will be offered. Called the FlexGrip, it's pictured in blue, purple, black and white. No word yet on whether or not it will make your iPad impossible to pull out of a pocket or bag.
Griffin iPad cases will begin shipping in Spring 2010 for $30-$50.
To view the full lineup of Griffin iPad products, head to the official Griffin Technologies web site.