Photowall for Chromecast is a new iOS app by Google which allows people to "collaborate with images" on their Chromecast-connected TVs. Chromecast owners can use the new app to doodle and comment on images before beaming them to their televisions to share with other Photowall users. The app also allows anyone to add photos to the montage, and it automatically uploads your Photowall creations to YouTube for easier sharing.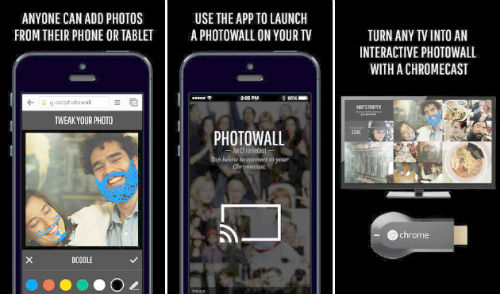 Photowall for Chromecast is available for iOS devices only. It is free to download from the App Store and it is compatible with all devices running iOS 6.0 or higher.
The app requires that you have a Chromecast HDMI streaming media player for it to work. At only $35, the Chromecast dongle is one of the cheapest ways to stream digital content from your tablet or smartphone to your television. Chromecast works with both the iPhone and iPad running iOS 6 or later.
Chromecast services include Netflix, Hulu Plus, HBO Go, Pandora and Google services such as YouTube.
You can purchase Chromecast for $35 from Amazon.com or directly from Google Play.