Google's Helpouts site debuted last year as a rendezvous point for common folk and experts from a variety of fields. If you want to learn how to play guitar, take a walk-through of photography basics, or want to sharpen your programming skills, take a look at Helpouts - it is a treasure trove of quality information. It went mobile last November when Google released it for Android, and now it is available for your iOS devices.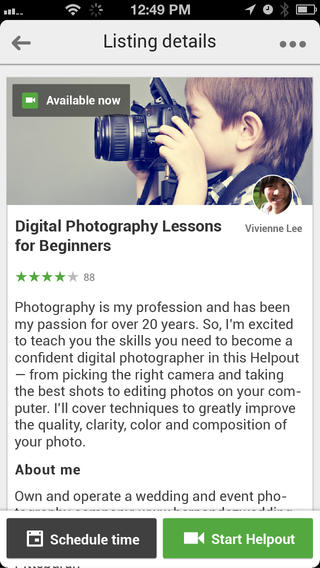 Helpouts works through Hangouts, which is a video chat and instant messaging platform developed by Google and launched last May. The service helps people with questions get in contact with experts from various fields. Categories include Art and Music, Cooking, Education and Careers, Cooking, Health, Home and Garden, Fitness and Nutrition and Fashion and Beauty. You can browse through the categories to find the expert/topic you're looking for, and there are plenty of user ratings and reviews to help you choose, which is great, especially if you are going to be paying for a consult. Some experts offer one-on-one sessions, some have scheduled seminars; there are both free and pay sessions. For example, coming up in 15 minutes is a free "LIVE Caribbean - Learn to Cook A Series of Island Dishes" seminar by Larry Fournillier, a Caribbean chef with over thirty years of experience and owner of a catering business that specializes in Caribbean food. If you were to join this seminar you would be able to ask questions and get instant feedback. Being able to use Helpouts on your iPhone or iPad makes it much more practical - now if you have questions about the fuse box in your basement, you can take your iPad down with you and chat with Lucas Borntreger, master electrician. He charges $15 for 30 minutes of consultation, which you should do if you're messing around with wires.
Take a look at the site and browse the categories. If you think you could use it, Helpouts for iOS is a free download from iTunes. It requires iOS 6.0 or better and is compatible with the iPad, iPhone 4 or better and the iPod Touch.