Coffee Stain Studios' Goat Simulator has landed on the Apple App Store one day before its announced September 18 release date. The simulation game was created as a joke but became a viral hit after some early game play videos were posted to YouTube. Sine then the game's first official trailer has received over 7 million views. Goat Simulator was released to mix reviews on Steam on April 1, 2014 and now it is available for iOS devices.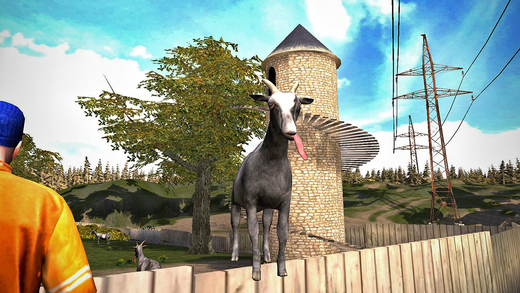 Goat Simulator features the "latest in goat simulation technology" which allows users to live out their fantasy of being a goat. The game is played from a goat's perspective as players try to do as much damage as possible in a open world. Players can wreck havoc by bashing and licking things, and earn points by performing goat stunts.
The game has been compared to skateboarding games such as Tony Hawk's Pro Skater due to its scoring system where players can earn more points by chaining tricks together. However, even the developers warn that the game is "completely stupid" and that you should probably spend your money on something else. For example, Coffee Stain Studios suggests buying a hula hoop or a pile of bricks instead of downloading Goat Simulator.
Goat Simulator is available on the App Store for $4.99. It supports all devices running iOS 6.0 or later and it is rated 9+ for "infrequent/mild profanity" and "mild cartoon/fantasy violence".