The iStation dock is the latest iPad accessory to reinvent a piece of Apple's design history. The iPad rests on top of the iStation, connecting to its internals via Bluetooth. A removable wireless keyboard is included, resting securely in the bottom of the iStation.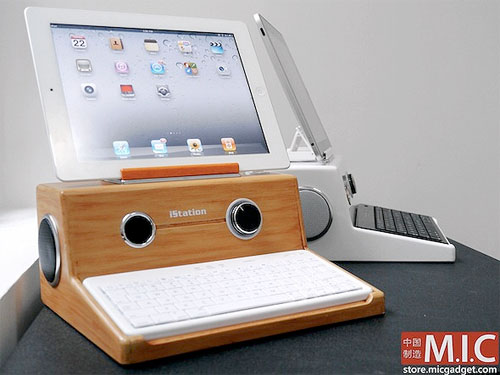 When installed, the iPad serves as the display screen, and the whole contraption resembles a typewriter or a retro computer. In fact, the setup has a stunning resemblance to the 1980 Apple III. Don't take our word for it, check out the photo below.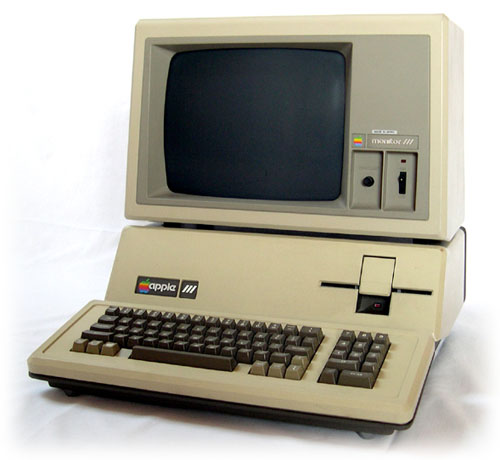 Since all of the computing power is already in the iPad, the iStation's high-density plywood body is used exclusively for high-fidelity stereo sound including a subwoofer. The volume control dial and special function keys for music, slideshow and home button controls are found on the exterior of the iStation.
iStation comes in faux woodgrain with white keyboard or white pearl glossy with a black keyboard. Pricing directly from the M.I.C Store is $140.90 including shipping to the US. For this, you also get a built-in USB/microSD slot for direct MP3 playback, USB to micro-USB cable for charging the keyboard, 3.5mm mini-stereo cable and AC power adapter.
The iPad can be charged via the USB port on the iStation, and connected to the speakers via Bluetooth or the included 3.5mm mini-stereo cable. There are limited quantities of the iStation available, so the M.I.C Store is restricting purchases to one per customer. iStation is compatible with the iPad, iPad 2 and iPhone 4/4S.