The iPad keyboard is pretty easy to master but there are a few hidden features that can make you look like a typing wizard if your learn how to use them. Here are four quick keyboard tips for new iPad owners: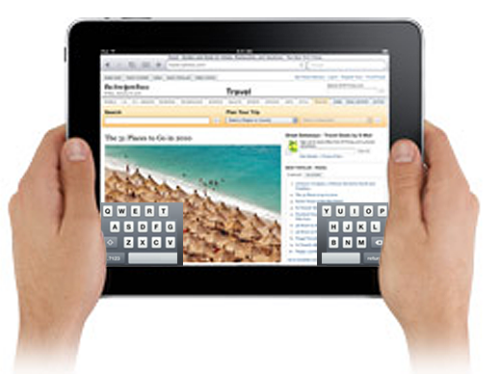 Split the keyboard: This trick is pretty well known, but new iPad owners will be happy to discover it. Apple added the ability to split the iPad keyboard in half in iOS 5. This makes it easier to hold your iPad and type with your thumbs. You can split the keyboard by placing two fingers in the center and draging them apart. You can also tap the keyboard icon at the bottom right of the keyboard and tap the "split" option from on menu.
Create custom made shortcuts: This works for all iOS keyboards. You can create your own quick abbreviations by navigating to Settings > General > Keyboard > Add New Shortcut... From here you can enter your own Shortcut for any Phrase. For example, you can make the Shortcut "brb" for the Phrase "Be right back!"
Caps Lock: Writing in all caps is really simple. Just double tap the shift button on the keyboard to turn the caps lock on. If this does not work, go to Settings > General > Keyboard and make sure the Enable Caps Lock toggle is green. You can also turn on / off Auto-Capitalization, Auto-Correction and Check Spelling from this section.
SwipeSelection: Users with a jailbroken iPad will want to install the jailbreak tweak SwipeSelection or buy SwipeSelection Pro. This tool makes editing text on the iPad or iPhone much easier. SwipeSelection adds the ability to accurately move the cursor by dragging your finger across the keyboard. You can also easily hightlight text by holding down the shift key and dragging your finger. SwipeSeletion is free, and SwipeSelection Pro gives you a little more control over the settings for $0.99. Both tweak are available in the BigBoss repo of Cydia.