Yes, Frash. This software makes it possible to run Adobe Flash on a jailbroken iPad. Comex has demonstrated his latest creation with a YouTube video showing a sample of Flash animations and games running on the iPad. Frash is a port of the Adobe Flash runtime for Android to the iPad.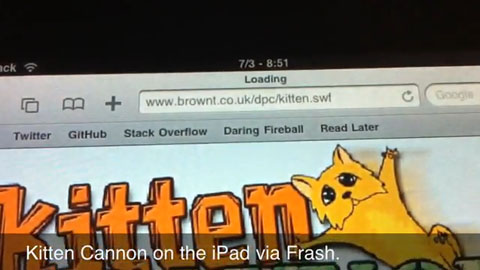 Flash programs run natively in the Safari browser, and a crash in the plug-in doesn't affect the browser thanks to the way it's set up. Comex has made the source code available and plans to release the software when a stable version is complete.
Video and keyboard input are not currently supported, but once full interaction on the iPad screen is made possible Flash could open up a whole new arena of applications. Adding support for video will require some heavy reverse engineering of decoding frameworks. Comex plans to add Frash support on the iPhone 3GS and iPhone 4 as well.
Comex recently released the Spirit jailbreak for iPads running iPhone OS 3.2. Steve Jobs as traded punches with Adobe over its Flash software, with Apple accusing Adobe of making poorly written software. Many have complained that Flash is not available on Apple's mobile devices.
Apple went so far as to modify its developer agreement to prevent Adobe from releasing software that would easily convert Flash programs into iPhone apps. Adobe contends that Apple's decision to eliminate Flash for open standards such as H.264 video masks their true intent: protecting the proprietary App Store from competition.
One thing is clear, where there's a will there's a way. Keeping Flash off of Apple's iPad will be impossible if the efforts of Comex and other programmers are successful. The fact that Flash has already been demonstrated to run well on an iPad means Flash could be coming to an iPad near you very soon.