Nickelodeon has released Teenage Mutant Ninja Turtles: Rooftop Run for iOS devices. The game is another endless runner where users must run and jump over obstacles while playing as either Leo, Donnie, Raph, or Mikey. Players can also use various weapons, gadgets, and boosts to defeat enemies like the Foot Clan, Kraang, and Dimension X. The game features in-app purchases, unlockable characters like Dogpound, mini-games, and the ability to fight in slow-motion combat sequences when activating the power-up "Turtle Time".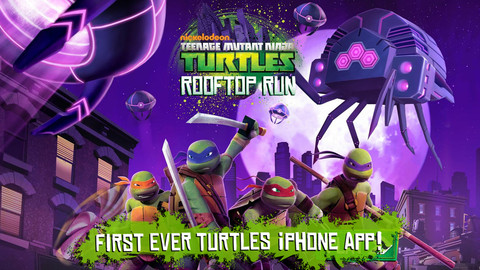 The official iTunes page oddly features a lot of warnings from the developers. According to the official description, the game is not "compatible with older devices", and only works with the fifth generation iPod touch, iPhone 4 or higher, and the iPad 2 or higher. It's unclear if this message was added in response to all the user complaints about frequent app crashes. There are also some "additional notes" about in-app purchases and data collection. Be sure to read everything carefully before downloading the app.
The game is $1.99, and requires that your device be running iOS 4.3 or later to work.