UPDATE: The ZAGGmate case/keyboard is also available for the iPad 2.
Although we've been intrigued by the ZAGGmate case and/or case and bluetooth keyboard combo since it was first announced a couple of months ago, we've been a bit lazy getting one into our hands. However, as luck would have it, a ZAGGmate arrived on our doorstep on Christmas Eve. What follows is a brief first look (full review to follow) at the latest iPad accessory from ZAGG, who is most well known for being the creators of the invisibleSHIELD line of screen and body protectors.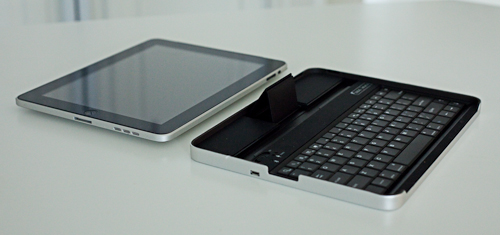 The thing that initially caught our eye about the ZAGGmate was the design and aesthetics of the case. The most notable thing about the vast majority of iPad cases out there is how un-Apple and un-iPad they are, Apple's official iPad case certainly not excluded. Most cases we've encountered are either made from materials (for reasons specific to their purpose) that preclude them from being considered sleek and elegant or, more commonly, simply fail at efforts to do so -- ending up awkward, bulky or both.
ZAGG has definitely gotten it right -- or at least gotten as right as anyone has thus far -- when it comes to designing a case for the iPad. When the iPad is paired with the ZAGGmate, they just feel right together. Aesthetically, this looks like the case Apple should have made.
On the keyboard side of things, everything works as advertised. Pairing is quick and easy, and the keyboard is responsive and easy to type on. Compared to typing on the iPad keyboard, this thing is a dream.
The ZAGGmate has a few areas of concern that we'll have a better chance to evaluate as we put the ZAGGmate through its paces, but overall, initial impressions are very good.
Check out some of the photos below to see the ZAGGmate in case and keyboard configurations. In our still-to-come full review of the ZAGGmate, we'll have an in-depth look at the pros and cons of the ZAGGmate. For now, here's a quick look at what works and potentially doesn't work with this new offering from ZAGG.
What Works
case design is slim, sleek and feels born to be paired with the iPad
impact protection seems adequate, meets expectations for this style of case
Bluetooth pairing is easy, simple and problem-free
1970s-looking on/off switch aside, the keyboard construction is modern and seems surprisingly high-quality
keyboard is surprisingly minimalist and responsive (Mac owners will greatly appreciate this) and layout is relatively uncramped
shortcut keys to go to home screen, music controls, etc are a pleasure
ZAGGmate balances well on the lap, typing this way is comfortable
as with other BT keyboards, brings a new level of productivity to the iPad
What Doesn't Work
brushed aluminum case, not unlike the iPad itself and all brushed aluminum finished devices, gets micro-scratches easily
USB-only charging is a bit of a drag (yes, a bit nit-picky)
the raised hinge against which the iPad rests in keyboard "mode" feels like it should be more on the industrial strength side for such a highly used, crucial aspect of the device
The ZAGGmate is $69.99 for the case-only model, and $99.99 for the case + keyboard model. For more information on the ZAGGmate, visit ZAGG's web site.