Fingerlab, who is more known for its music related apps, has released its first platformer for iOS devices. Atom Run takes place in the year 2264 where all human life has become extinct. The world is now ruled by robots who have gone crazy after being exposed to radiation. You control Elgo, the only sane robot left, as he tries to collect atoms and molecules to create new life.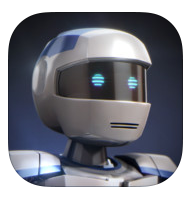 Fingerlab describes the game as an "action-adventure fast paced platformer" with "precise and intuitive commands". The game features an original score by french electronic artist KingQ4, and it is available in several languages including French, English, Italian and Spanish. The game also includes third-party controller support and Game Center support.
Atom Run is available on the App Store for the onetime price of $2.99. This means it features zero ads and no in-app or additional purchases. The game is compatible with all devices running iOS 7 or later and it is optimized for Retina display.
Atom Run is rated 9+ for "infrequent/mild cartoon violence and infrequent/mild horror/fear themes.