The PlayStation 4 is already one of the most sought after items this year, and analysts are predicting that it may be sold out until 2014. However, some online shoppers are using a new iOS app to help them locate and buy the next-generation console before Christmas. The free whohas.it app allows users to track out of stock products so they can be alerted when they are back in stock. The service is easy to use, and it has already helped hundreds of shoppers purchase both the PS4 and Xbox One, plus other hard to find products, this year.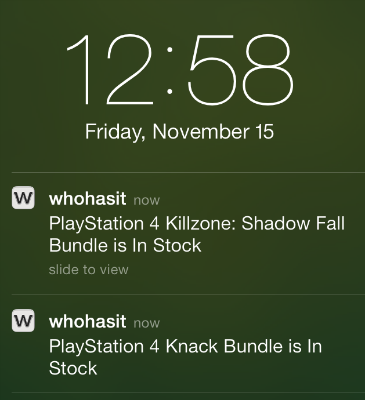 iPad and iPhone users can download the app for free from the Apple App Store, and Android users or people without smartphones can use the online service. You can get started by taking a few seconds to register for a free account, then navigate to the product page you want to follow, and just tap or click the "follow" button to start tracking that item. You can then choose to have whohas.it send you a mobile alert, email or desktop alarm when that product becomes available for pre-order or is back in stock.
For example, whohas.it users were alerted this morning when some PS4 units became available at the same time gamers were lining-up outside retail stores to get their hands on the new console.
Online product trackers have been a secret weapon of expert shoppers for years, and now things are even easier with the whohas.it iOS app. The app allows you to never miss a product by allowing you to quickly purchase it with your mobile device while you're away from home. It is also a great tool to combat scalpers and help avoid busy consumers avoid paying high third party prices.
The whohas.it team will also add any tracker requested by its users.
You can start following the Sony PS4 tracker here or the Xbox One here.