Flexibits designers Michael Simmons and Kent Sutherland have improved upon their award winning calendar app Fantastical, and released Fantastical 2 for the iPad. It was just launched today and it will be available at a 33% discount for a limited time.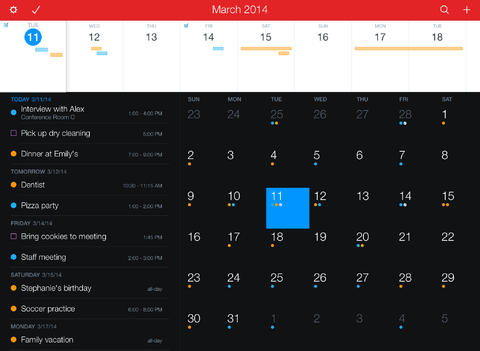 While the majority of calendar apps either look like regular calendars that let you enter items in the daily boxes, or have a "list view" format like the built-in iOS calendar, Fantastical 2 offers a "dashboard view" of your events, to do's, and reminders. According to The Verge, Simmons believes "Calendar's traditional month view has been done. There's already an app for that... The whole point was to change and be innovative. The goal of Fantastical is to make a different calendar app." Fantastical 2's dashboard has
views such as "DayTicker," week view and full screen week view. You can customize it to use the various views however you see fit, and it lets you navigate between them with a variety of gestures.
Reminders are easy to add in Fantastical 2 - simply type in something like "remind me my payment is due on 4/3" or "task, pay bill tomorrow" and the reminder will be scheduled. If that's not easy enough, you can dictate your events and reminders to Fantastical 2 (though not if you're on an iPad 2). Another feature of Fantastical 2 is that it adds informational detail to events. For example, if you say "remind me that I have dinner tomorrow at 7 at Consuela's," it will provide you with a map to Consuela's.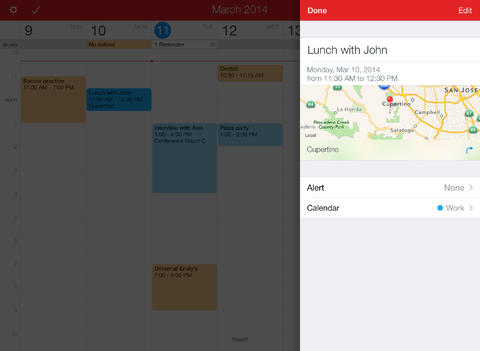 Another plus, in case you want to make the transition to Fantastical 2, is that it supports the same calendar services that the built-in calendar app does, including iCloud, Google Calendar and Exchange, among others.
Fantastical 2 for iPad is currently available for $9.99 in the App Store (though for a limited time only), which is 33% off the standard price of $14.99. It requires iOS 7.0 or better.