Streaming may be a great way to watch your favorite movies and TV shows, but content is fragmented amongst the many content providers vying for our money. Fanhattan for the iPad makes searching for content easier by aggregating it from multiple sources. This allows iPad owners to use one app to browse available movies and TV shows, instead of using multiple provider apps like Netflix and Hulu Plus.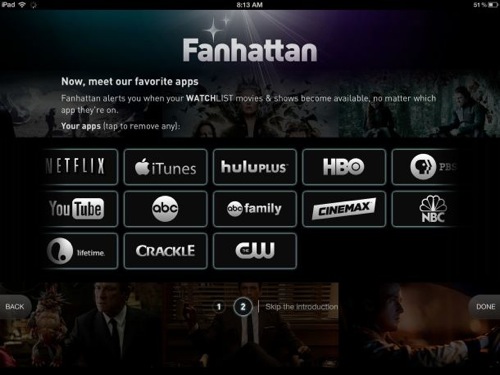 Fanhattan has recently grown their roster to 14 different providers by adding networks like NBC, HBO, The CW, and Cinemax. Fanhattan has also added a "watch list" to help users navigate the 175,000 movies and TV show available through the various services. You can even save upcoming movies and TV shows that haven't been released yet. Fanhattan will then notify you when the content has become available to watch on your device.
The free app supports both the iPad and iPhone plus Facebook's Open Graph which allows you to share what you're watching with your friends. The app is free to download from the App Store.
Fanhattan gives you one stop access to: HBO, Hulu Plus, iTunes, Netflix, NBC, Cinemax, Fandango, CW, PBC, ABC, ABC Family, Lifetime, Crackle and YouTube.