After causing a stir with its new targeted ads, Facebook announced plans to push more games to iPad users. Facebook has decided to take advantage of the 70 percent of iPad users who enjoy playing games on their tablets by adding a new sidebar featuring Facebook-connected games and trending topics to its iPad app.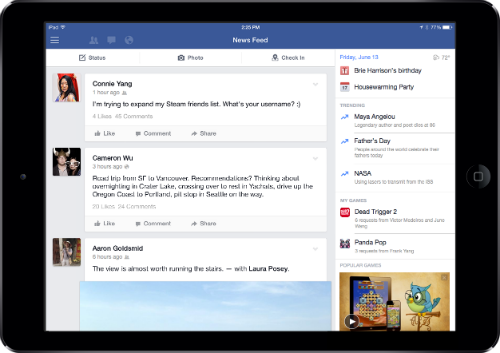 The new section will appear on the right-hand side of a user's News Feed when the iPad is in landscape mode. Users will be able to see a list of upcoming birthdays, events, and daily trending topics just like the browser version of Facebook. Other new features will include a My Games section with easy links to games users play, and a Popular Games section that suggests others games that a person may find interesting.
Facebook did not announce when the update would officially roll out, but the company is encouraging developers to register their apps with Facebook so they can be featured on its iPad apps game sections in the future.
The Facebook app is free on the App Store for all iOS devices running iOS 6.0 or later.