ESPN has added a 2014 Winter Olympics tab to its SportsCenter app. The new tab allows users to easily keep track of news, scores and the medal count at the Sochi Olympics. Version 4.0.3 of the ESPN SportsCenter app also adds better Twitter integration and other improvements. The SportsCenter app is free to download on the Apple App Store. It is compatible with all iOS devices running iOS 7 or later.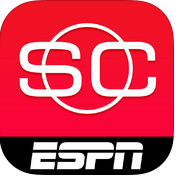 Apple has also added a Sochi 2014 Winter Olympics section to the App Store. The new section highlights various 2014 Winter Game apps and Sochi 2014 music. Some of the apps include the official Team USA social media app, NBC Sports Talk and Medal Alert. You can find the new Sochi 2014 section by opening the App Store app on your iOS device and tapping the banner at the top of the page.
Guests of the games can download the free Sochi app from the App Store. This unofficial app provides specially created routes for visiting all the main attractions of Sochi, and it includes details about the culture, history and cuisine of Southern Russia.
The 2014 Sochi Winter Olympics begin on February 7th and run until February 23rd.