Stalag 17 is a new strategy title for the iPad based on the relatively unknown 2011 board game which bears the same name. In the iOS version players must help their comrades escape a WW2 prison camp by collecting items found on their individual escape plans. To win the game, a player must help three of their prisoners escape before the POWs from other countries also fly the coop.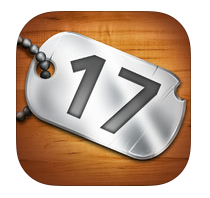 Stalag 17 was released to the App Store with zero press by an unknown developer named Silver Apps. The only other game created by the studio is the Google Play title called Fearless Fighter. Little is known about Stalag 17 Game (official iOS title) but you can read more about the table top version at Board Game Geek. Pocket Tactics did give the app a quick spin and came to the conclusion that it is a "good" game with a "fantastic" concept.
Stalag 17 Game is now available on the App Store for $6.99. It supports all iPad models running iOS 5.0 or later. The game is rated 4+.
Official App Store Description:
It's World War II; you and two of your comrades are stuck in a war camp. Follow escape plans by collecting the necessary objects and break your comrades out one by one! But, it won't be that easy. Other prisoners of war from other countries will race to break their comrades out before you and every time a soldier escapes, security at the war camp tightens!