Retro gamers can now purchase the entire Double Dragon Trilogy from the App Store. The $2.99 download includes Double Dragon, Double Dragon 2: The Revenge, and Double Dragon 3: The Rosetta Stone. Players can choose between Arcade and Story mode, and three difficulty levels (mobile, normal or expert). Arcade mode allows you to play the game the way it was meant to be, from beginning to end, and Story mode allows you unlock new stages and achievements as you advance.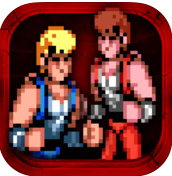 The Double Dragon Trilogy also includes the original 8-bit soundtrack, a brand-new remastered soundtrack, Bluetooth co-op mode and gamepad support.
The Double Dragon arcade version was originally released in North America and Europe by Taito Corporation in 1987. The popular title was also ported to home gaming consoles like the Nintendo Entertainment System, Sega Master System, Atari 2600, Game Boy Advance and the Nintendo 3DS. Players control martial artists Billy Lee, or his twin brother Jimmy, while they kick, elbow and punch their way through the Black Warriors' turf to save their love interest Marian.
Double Dragon is available now from the App Store. It is compatible with the iPhone 4 or later, iPod touch (4th and 5th generation), the iPad and iPad mini. It requires iOS 5 or later.
Official App Store Description:
"Enter Double Dragon Trilogy, a compilation specially optimized for mobiles and which includes all three installments of the beloved arcade series: Double Dragon, Double Dragon 2: The Revenge, and Double Dragon 3: The Rosetta Stone. The first one begins with Billy and his brother Jimmy, two martial arts experts, in a mission to rescue Billy's girlfriend, Marian, who's been kidnapped by the Black Shadows Gang. All your favorite moves are here: punches, kicks, elbows, knees, head-butts and an assortment of not-exactly-street-legal weapons."