Disney is really pushing the NFC-based console game concept with the release of Disney Infinity on August 18. Not only will the game feature Skylanders-like collectible action figures, but Disney fans will be able to expand their Infinity world with the Disney Infinity: Toy Box app for the iPad.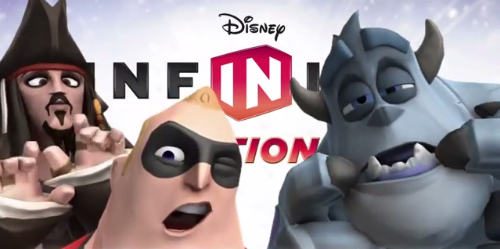 The Disney Infinity video game will originally be sold as $75 Starter Packs for the Xbox 360, PlayStation 3, Wii and Wii U (there will also be a separate Nintendo 3DS release). Each starter pack will include three Disney related action figures that are needed to play the game. Players will also have the option to buy additional figurines such as Francesco Bernulli from Cars at $13 a pop. The game can be played like a traditional video game, or players can use the "Toy Box" mode to create their own Minecraft-style Disney Infinity worlds.
What makes Infinity's Toy Box mode unique is the ability to share creations across different platforms using the cloud. For example, if you create your own custom sandbox world on your Xbox 360, you will be able to open it on your friends Wii U using your Disney ID. The free Disney Infinity: Toy Box app will help expand this world by allowing users to play, edit and share their Disney Infinity creations on their iPads.
Users will be able to use web codes that come with their individual Infinity figurines to upload their characters to the iPad version of the game. The app will also include additional characters as $0.99 in-app purchases (Mr. Incredible is included for free). However, these characters will be locked to the iPad, meaning you won't be able to use them on the console versions of the game.
Disney is also releasing Disney Infinity: Action! -- a video-manipulation app for the iPad. This app allows users to make videos of themselves starring alongside Disney characters such as Captain Jack Sparrow. You can check out the trailer below.
Both the Disney Infinity Toy Box and Action! apps will be available for free from the Apple App Store on August 15. The Disney Infinity Starter Packs are currently available for pre-order, and will start shipping on August 18.