Adobe has announced the end of mobile Flash development after a long and public battle with former Apple CEO Steve Jobs over the technology. Jobs cited Flash as too inefficient and insecure to run on Apple's devices, including the iPad and iPhone. Initially some questioned the decision but the adoption of HTML5 has skyrocketed along with iPad sales, making Flash less relevant.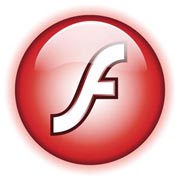 Manufacturers of Android tablets have long contended that the inclusion of mobile Flash on their devices makes them superior to the iPad. Now that Adobe is abandoning the technology on mobile devices, some reports have declared a posthumous victory for Steve Jobs. Adobe has already begun to invest in HTML5 technology despite its refusal to acknowledge the limitations of Flash on mobile devices.
Ultimately as more content providers abandon Flash on their web sites, all tablet and smartphone owners should benefit, including iPad owners. Many large companies including Facebook and newspapers have already moved to HTML5 to produce content that's compatible with a wide variety of devices and does not depend on the Adobe plug-in.
The end of mobile Flash will mean the end of iPad hacks and apps that make it possible to run Flash despite Apple's disdain for the technology. The iPad 3 will arrive next year in a post-mobile Flash world, closing the debate on whether or not Apple will reconsider Flash on its tablets forever. The overwhelming popularity of the iPad may not have killed Flash outright, but Apple's refusal to include Adobe's software certainly accelerated its downfall.
Adobe will launch a restructuring plan which includes the loss of 750 jobs as it refocuses its business. It remains to be seen how the end of mobile Flash development affects sales of Android mobile devices, or if Adobe can keep itself relevant on the web as Flash declines in popularity.