Comedy Central has released a free app giving users access to over 6,000 stand-up comedy videos. The CC: Stand-Up app features live comedy performances from over 700 different comedians including favorites like Kevin Hart, Louis C.K and Daniel Tosh.
The app makes it easy to discover new talent, and find videos from your favorite comedians with its Search and Discovery modes. The Discovery mode suggests new stand-up routines by locating related videos based on comedians and topics you like to watch. Featured mode highlights Comedy Central specials, and offers playlists like the greatest hits from top comedians. The app also features the usual Twitter and Facebook integration, so you can share your favorite routines with family and friends.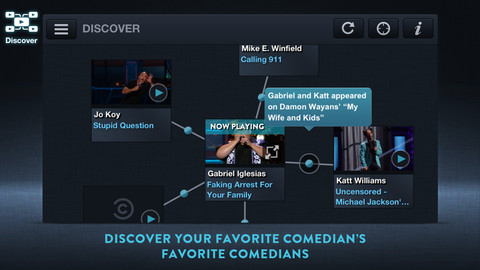 I gave the app a quick whirl, and the UI was pretty easy to use. I watched one six minute Amy Schumer video, and was able to quickly find more Shumer clips, plus more recommendations for similar content. The app does include uncensored videos, so it's recommended for ages 17 and up.
You can download the CC: Stand-Up app for free from the Apple App Store. It supports both the iPad and iPhone, and requires iOS 6.0 or later.