iPad users rejoice! The native Clock application comes your way with iOS 6 this fall. AppleInsider has pictures of the upcoming addition to your home screen. iPad 2 and new iPad (iPad 3) devices will be supported by iOS 6.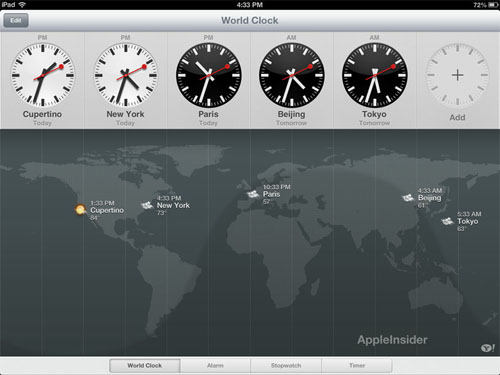 The Clock app has several enhancements for the larger iPad screen over the iPhone app. Features include World Clock, Alarm, Stopwatch and Timer functions. The World Clock, pictured above, also displays weather information for cities of interest.
Clock will of course make it possible for iPad owners to set an alarm without using the Calendar app. Obviously the Timer will alert users after a specific amount of time has passed, and the Stopwatch will time an event including consecutive laps.
Although the functions provided by Clock are relatively straightforward, Apple has done a great job of maximizing the iPad screen. The controls are extremely intuitive and the extra space on the display provides more room for Clock information, such as a weekly calendar of alarm times and the weather information previously mentioned.
Original iPad owners will have to continue using third-party clock applications for their timekeeping needs.