Ten One Design is known for its iPad stylus, the Pogo Sketch. Now they've added a whole new accessory to their arsenal, an actual touch joystick. This simple unit attaches directly to the iPad screen with suction cups.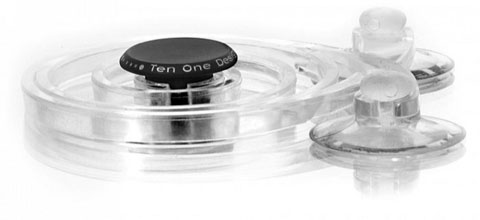 You can place the Fling anywhere a directional controller is required, and it instantly makes a physical joystick to enhance iPad gaming. Made of clear plastic, the Fling tactile game controller even comes in discount packages of two.
Although it's not yet available, the Fling can be pre-ordered for $24.95 (or you can get two for $38). The product is designed to increase skill and control with any iPad game that features a virtual joystick. The concept is simple: a flexible plastic ring holds the capacitive-touch center pad over the screen. Two suction cups hold it steady while your thumb or finger controls the game through the joystick.
The Fling comes in clear plastic with a couple of different designs and a microfiber carrying case for screen cleaning. The whole point of clear plastic is that this joystick won't block any game action on the screen, only covering the exact place where the virtual d-pad is located. Many games will let you locate the joystick wherever is most comfortable.
Ten One Design manufactures the Fling out of a durable resin, so although the joystick is small and light it's designed to hold up to the rigors of iPad gaming.