Case manufacturers lost their credibility when it comes to unannounced Apple products due to the tear-drop iPhone 5 debacle of 2011. However, accessory manufacturer MiniSuit claims to know the iPad 5 design specifications, and has sent out an image of their upcoming iPad 5 case anyway. The image shows how the iPad 5 differs from the iPad 4 by featuring a more iPad mini-like profile.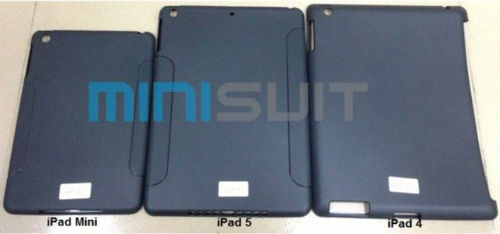 Recent rumors have suggested the iPad 5 will feature a narrower bezel and thinner design. Jeremy Horwitz of iLounge, who claims to have seen a physical model of the fifth-generation tablet, said "calling [the iPad 5] a 'stretched iPad mini' is very close to entirely accurate". If MiniSuit's "reliable soure" is correct, the nwely designed iPad 5 calls into a question a recent iPad mini leak.
Images of the purported iPad mini shell published by WeiPhone, revealed Apple's 7.9-inch tablet will be getting a bump in size to incorporate Retina display. This originally seemed to make sense since the iPad 3 was slightly thicker than the iPad 2. But if the iPad 5 is "smaller in every dimension than its predecessors", I don't see why Apple would increase the iPad mini's size. It kind of defeats the purpose of a "smaller" iPad if it's going to increase in size and cost.