Accessory maker Belkin announced today that their handheld home theater for the iPad is now available with Lightning I/O. The Thunderstorm made its debut back in January at CES 2013, but it's now compatible with the iPad 4, instead of just the earlier 30-pin Apple tablets. The amplification system is powered by Audifi, and it features an integrated dock connector with front-facing speakers, and integrated air channels for "booming, deep bass that you can actually feel while holding your device."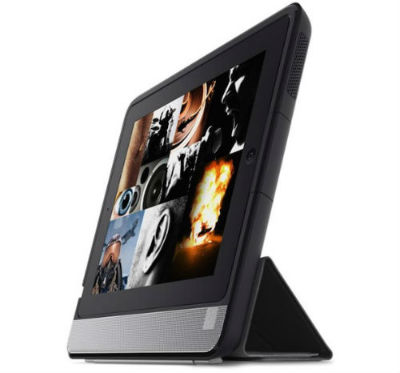 The Belkin Thunderstorm features a "comfort-grip" surface, and a lightweight, slim design, which makes it easy to carry and hold while it is in use. Its is also optimally calibrated to deliver great sound effects and music while playing games on your iPad. The Thunderstorm is compatible with the free Thunder app, which gives users extended control of the device.
The Belkin Thunderstorm Handheld Home Theater for the iPad 4 is now available for $200 from Belkin.com, or you can nab it for $156 from Amazon, if you do not mind waiting a few extra days for it to ship.