Today Beats Music tweeted a teaser image with the caption "THIS JUST IN: Your favorite Music App is feeling ready to grow in size...literally..."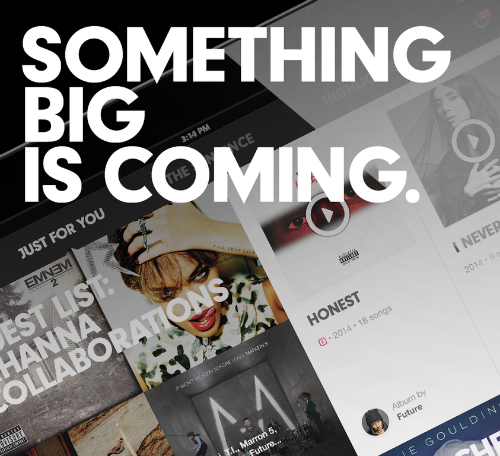 In January, music mogul Jimmy Lovine and Dr. Dre took a gamble by launching a music subscription service without a free ad-supported option. The service offers on-demand access to around 20 million songs and it features specific channels curated by music experts such as famous DJs and music journalists. The app also includes a recommendation engine entitle "The Sentence" where users can get song suggestions based on their current activity, mood and location.
On Sunday, Billboard Magazine reported that Beats Music was off to a "rocky start." According to the magazine's unnamed sources, Beats Music early subscriber numbers were "disappointing" and only tally in the "low six figures," even after an aggressive and expensive marketing campaign. However, the company's CEO Ian Rogers disagrees with Billboard and posted a blog entitled "100 Days and Runnin'" highlighting the service's success.
According to Rogers, Beats Music is the number one music app on iTunes and and Beats subscribers have created "more than 2 million playlists of their own." Rogers also noted that 60% of its users use the service multiple times a day and have "loved 17.5 million tracks, genres and albums".
The Beats Music app is free to download from the Apple App Store, but it requires a $10 monthly subscription. The app is compatible with all deices running iOS 6.0 or later.