Slitherine, the publisher of Battle Academy, has released a new strategy title for the iPad called Hell: Fight for Gilrand. In Hell, players can choose to command the Order of Radiance or an army of demons as they battle for control of the fantasy realm Gilrand. The game features easy to use touch controls for the iPad, but it is not an easy title to master, according to Pocket Gamer.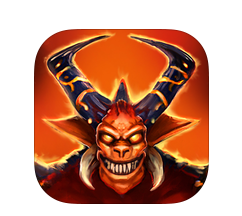 One does not simply walk into Gilrand... Players must outsmart their opponents by using a variety of strategic maneuvers and magical spells to earn bonuses that give them an advantage in battle. The game features different units and support units with their own special abilities and attacks for players to use. The official App Store description lists "paladins and flying gryphon riders to demonic hellions and hellhounds" as some of the available units. Troops also gain experience for successful attacks and defense, and earn bonuses for terrain advantages and morale.
Hell: Fight for Gilrand features one single player campaign with 20 unique levels and cross platform multiplayer functionality (iOS and PC).
The iPad version is available now for $9.99 on the App Store. You can learn more about Hell: Fight for Gilrand at Slitherine.com or via its official Steam page.