This is normally a quiet time of year for smartphone/tablet manufacturers as the world waits for Apple's newest iPhone and iPad to be released, but Samsung and HTC have decided not to sit ideally by this September. Samsung recently announced that its iPhone 5s lookalike the Galaxy Alpha will launch around the same time as the iPhone 6, and HTC has scheduled a press conference a few days before Apple's rumored September 9th iPhone event. Samsung has also teamed up with Barnes & Noble to release the Galaxy 4 Nook.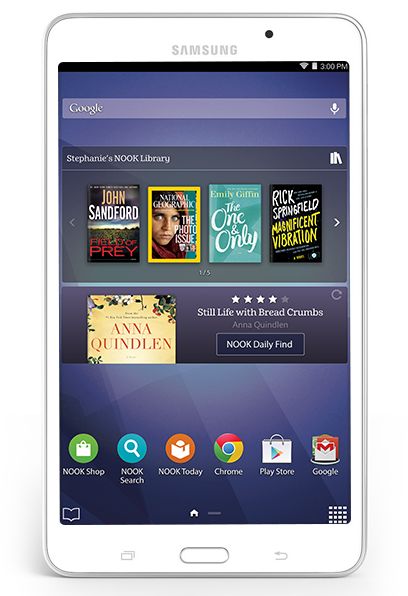 The e-reader/tablet is basically just a Galaxy Tab 4 7.0 with dedicated Barnes & Noble widgets. The new Nook is powered by a 1.2 GHz quad-core processor and it runs Google's Android operating system. It is equipped with a 1280 x 800 (216 PPI) display, front- and rear facing cameras and it ships with 8GB of internal memory plus a microSD slot for up to 32GB of expandable memory.
The Nook delivers a "basic Android experience" with all the Nook features "you've come to know and love," according to Engadget, who got an early preview of the device. The Nook home screen displays a shortcut to the last book you were reading, recommendations based on your personal taste and of course it features access to the Barnes & Noble digital store. Engadget says the "Nook software is quite impressive" and it includes welcomed features such as Article View for magazines and Multi-window mode.
Barnes & Noble is also throwing in over $200 of free content plus a $5 credit to get you started. The Samsung Galaxy 4 Nook is available now in white or black for only $179 through Barnesandnoble.com.